Banská Štiavnica guided road cycling tour
Banská Štiavnica is former mining town and it is one of the most beautiful and historically one of the most interesting towns in Slovakia. It is a great place to cycle with yout road and MTB bicycle with many scenic routes in Štiavnické Vrchy mountains. Explore the this area from the saddle of bike as a part of our guided tour. This "sporty" experience will bring you closer to the local places and you can enjoy the beauty of region.
Enjoy the region from the saddle of the bicycle

This road cycling tour of Baská Štiavnica is for 5 nights with transport from airport. In this regions there is a lot of routes for road cycling to choose to cycle, but everything will decided up to current group shape & weather conditions.
We will enjoy local mining lakes, landscape views & natural sights. In the evening there is time to enjoy mining historical city of Banská Štiavnica with local brewery and restaurants. There is possibility of bath in thermal cave.
Routes will be from 60 km to 160 km up to group expectations. There is almost no flat route so the tour is more suitable for people that can cycle at least over 1000 m of climbing a day, but we can easy find a route over 4000 m of climbing a day.
Cycling jersey Sportful
Professional cycling guide with English
Accomodations in selected hotels & pensions for 5 nights
Buffet breakfast & dinner included
Luggage transfer form Bratislava & Vienna & Budapest airport
Road bicycle rental
Special events included – local brewery visit, thermal bath, spa & sauna & mine tour
Support vehicle
Scenical routes with intense climbs in the nature of Štiavnické Vrchy mountains
Local historical mining villages
Visit of historical town of Banská Štiavnica
Erb brewery & restaurant
Tajchy – mining artificial water reservoirs
Pricing & dates for guided tours
Tour for group size of 3 to 7 people
Price per person: 1200 € based on single / double bed occupancy
Tour for group size of 8+ people
Price per person: 1080 € based on single / double bed occupancy
Guided tour dates for 2019
4.6.2019 / 9.6.2019
9.7.2019 / 14.7.2019
Contact me for any custom date for you and your group. We can arrange it if we are not fully booked.
20% discount on Power Bar & Sportful products for this tour
10 % price discount for group of 10 people or more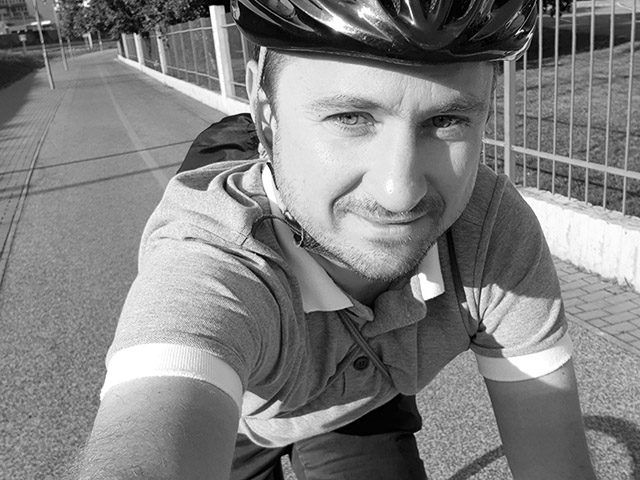 My name is Karol and I traveled over 80 countries all around the world with or without bicycle. Many of them i visitited on my ultimate round the world tour by bicycle 2013 – 2016. Now after I settled down a bit I can offer you "sporty" experience as a guide of cycling tours.
Enjoy the best parts of Slovakia with my guided or self-guided cycling tours. Standard tours or custom made tours are made for small cycling groups, traveling people they want do enjoy the country in different way.It is also great way for your campany teams as a teambuilding if you guys love cycling.